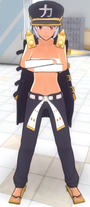 Bancho Mode is an Easter Egg Mode in Yandere Simulator.
Appearance
Press the B key to activate this mode. It cannot be deactivated until the game is reset or the day ends. Once pressed, Yandere-chan will wear a black jacket over her shoulders, grey pants with a white and gold belt, wooden sandals, and a black cap with a Japanese character on it. She will have short, white hair, red eyes, and tanned skin. When idle, Yandere-chan will cross her arms.
Gameplay
If the Left CTRL key is pressed, she will lean forward and unleash a flurry of punches.
Bugs
If the player takes off the gloves that she is wearing, Yandere-chan will switch to the normal school uniform.
Trivia
Gallery