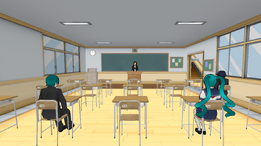 Classroom 3-1 is a classroom in Akademi High School.
Karin Hana is the teacher of this classroom. The students will sit in their designated seats from 8:30 AM to 1:00 PM, and will resume sitting in their seats from 1:30 PM to 3:30 PM.
Appearance
The classroom is located in the southern wing of the third floor. The room has beige wooden floors, tan baseboard, blue-grey walls, and a ceiling. The teacher is located in the front of the room behind a podium and in front of the chalkboard, where the floor is a darker brown. There are fifteen desks facing the front. There are also many cubby holes in the back and grey cabinets on either side.
People
The people located here are:
Trivia
Midori Gurin and Pippi Osu used to be in this classroom; Then both moved to Class 3-2.
This is the classroom with the least number of students, at three.
In the final game, there will be fifteen students in this classroom.[1]
Gallery
References