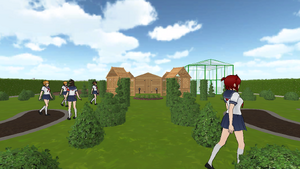 The garden is an area located on Akademi High School's grounds.
Appearance
The garden is located close to the track and is at the northwest side of the school building. The entire garden is fenced in by a hedge. Several shrubs lead out from inside the garden. There are four chairs toward the middle of the garden, surrounding a flower bed. A shed is located in the middle back. In the far left corner, there is a plot of empty tilled land, and in the far right corner stands a greenhouse. Two large, empty flower beds are close to the entrance.
A placeholder club leader stands right outside the entrance. A square bush is located in front of the entrance. A wood chipper, jerry can, and a bucket are located in the bottom right corner of the garden.
Use
Students in the Gardening Club will use this area for their club activities. The player can also access a circular saw, a shovel, an axe, and an old axe here.
As of the July 24th, 2016 Build, Yandere-chan can bury corpses in the garden land plots.
Trivia
The garden was implemented in the January 1st, 2016 Build.
As of the May 6th, 2016 Build, there are nature sounds in the garden area.
Gallery
References