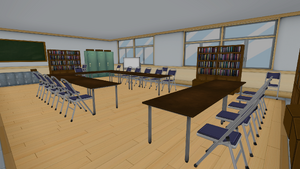 The Meeting Room is an area of Akademi High School.
Appearance
This room is located on the first floor of the eastern wing. It has an oak floor and gray walls, as well as two windows. There are several desks and blue chairs arranged, with some bookshelves, closets, and boards.
Use
In the future, the room will be used for weekly meetings between faculty, club leaders, and the Student Council.
Trivia
This room was implemented in the November 15th, 2015 Build and and fully furnished in the December 24th, 2017 build.
YandereDev thinks that the meetings would primarily be about club budgets.[1]
The single chair on the left is for Megami Saikou. [2]
Gallery
References