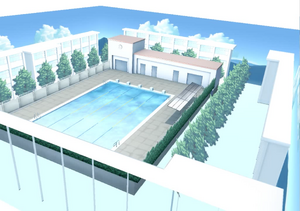 The pool will be an area where Yandere-chan will be able to drown rivals.[1]
Gameplay
Athletic students may use the pool.[2] The pool did not appear for the November 15, 2015 Build, so it is unknown when it will be implemented.[3]
In the future, students in the Sports Club will use this area after school.
Yandere-chan will most likely never swim in the pool unless it serves a gameplay-related purpose, such as washing off blood.[4]
Trivia
There used to be a prototype pool that could be seen while riding around Buraza Town, but it was removed when the second version of the town came in the January 1st, 2016 Build.
Gallery
References