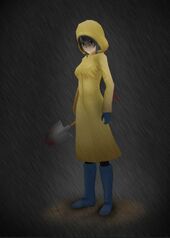 The rain coat is a type of outfit that Yandere-chan will be able to wear in the future in Yandere Simulator.
Appearance
The rain coat is long and yellow, with a hood that covers the head. It comes with blue boots and gloves of the same color. There is a black version of the coat to go with the Occult Club.
Gameplay
In the future, Yandere-chan will be able to wear a raincoat when she kills someone in order to prevent blood from getting on her uniform.[1]
Trivia
The raincoat was first teased in the May Preview #8.
The raincoat color was chosen to be yellow instead of red so that blood would stand out more against the outfit.[3]
Gallery
References