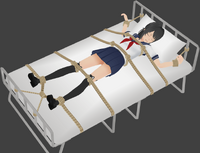 The restraining bed is an upcoming feature that will eventually be implemented in Yandere Simulator.[1]
The restraining bed has not been shown in-game yet. Currently, its appearance has only been shown in the blog post, May Preview #2.
Use
In the future, YandereDev wants there to be 5 different ways to restrain a kidnapped student, the restraining bed is one of these ways.[2]
References