"SNAP" is the fourth option the player has upon receiving any Game Over. It is currently unprogrammed.
Clicking the option will do nothing, as it is only a placeholder for an upcoming game feature. Any SNAP features are unavailable because there are no animations,[1] no new voiced lines, and no male animation control rig.[2] Due to this, its purpose is unknown. When SNAP is finished, it might be partially interactive and partially cinematic.[3]
A promo concept video was shown on February 14th, 2016 showcasing more of SNAP Mode. In the video, what Senpai accepts the rival's confession, Yandere-chan flies into a rage, killing the rival, then Senpai, then herself before collapsing in a pool of blood. YandereDev has said that it both is and isn't SNAP mode.[4]
Trivia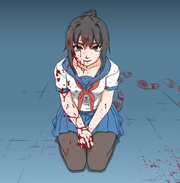 The finished demo will feature SNAP.[5]
YandereDev would rather show off the feature with a video than describe it on Twitter.[6]
Not much has been revealed, but Yandere-chan will "break" mentally.[7]
It is entirely possible that YandereAni knows what SNAP does.[8]
The SNAP option was featured in YandereDev's YouTube video "E-mail, Volunteers, and Progress - Part 2". He is seen pressing the SNAP option after being angered by Midori. After pressing this option, both the drawing of Yandere-chan and the floor are splattered in blood.
If Yandere-chan is knocked into a comatose Game Over by a delinquent, she will not be able to SNAP.
YandereDev stated in an old blog post that he would like Yandere Simulator Game Over to actually be a playable sequence. For example, if Yandere-chan's reputation drops to -100, she is given the option to either reload a previous save, or keep playing, but now to kill Senpai, and then kill herself. If she can't have him, nobody should be able to have him.[9] It is unknown if this relates to SNAP itself.
In one of Druelbozo's Twitch streams, he compared SNAP to having a Golden Tanooki Suit from Super Mario 3D Land if the player dies enough.
The way SNAP will play out will be different depending on the circumstances that caused it. For example, snapping after a rival's love confession and snapping while being arrested by the police would involve different events, but would have very similar outcomes.[10]
References