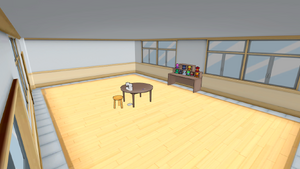 The Sewing Room is a room at Akademi High School.
Appearance
This room is located on the first floor in the east wing. A white sewing machine, a pair of scissors, a brown wooden table, and an orange-yellow stool are located in the middle of the room.
At the back of the room, there are ten fabric dolls on a beige display.
Use
The player will have to modify a uniform using a sewing machine here to complete a task for Kokona Haruka. Eventually, YandereDev would like to implement a sewing class, where a student sews a new school uniform every day, providing the player with the option to get a new uniform daily.[1]
Trivia
Gallery
References