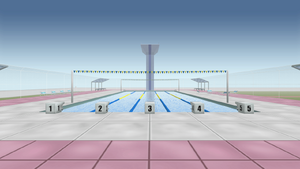 The swimming pool is an unfinished area where Yandere-chan will be able to drown rivals in the future.[1]
Gameplay
Athletic students may use the swimming pool once it is fully implemented.[2]
In the future, students in the Sports Club will use this area after school.
YandereDev thinks that Yandere-chan should eventually be able to swim and drown students in the pool but will not make it an option for a while.[3]
As of the June 1st, 2017 Build, the swimming pool has an invisible wall around it and cannot be interacted with, in the future, new features will be added.[4]
Two mops and four buckets can be found near the swimming pool on the left and right sides.
Trivia
The swimming pool was implemented in the June 1st, 2017 Build.
There used to be a prototype swimming pool that could be seen while riding around Buraza Town, but it was removed when the second version of the town came in the January 1st, 2016 Build.
Gallery
References