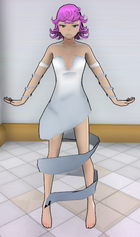 Tornado Mode is an Easter Egg mode in Yandere Simulator.
Appearance
This mode is a reference to Tatsumaki from One Punch Man .[1] Press 7 to activate this mode. When pressed, Yandere-chan will have messy pink hair. She will wear a long white dress, similar to Tatsumaki's outfit.
Gameplay
By pressing the left CTRL button, Yandere-chan will whip up tornados. If an NPC touches these tornados, they will instantly start to levitate and die.
Bugs
Yandere-chan's outfit texture will break if she changes clothes.
If Yandere-chan holds a bucket and falls by pressing the left control button, she will walk and stand normally instead of floating.
Trivia
Gallery
References